The first step may be the biggest
Take the first step on your career path with us
For several years now, Adamed has engaged in internship programmes. Our internship offer is targeted at final year students and recent graduates interested in gaining insight into work at a pharmaceutical company.
Internship programmes at Adamed provide great opportunities for ambitious individuals seeking exciting professional challenges. They are also an excellent opportunity for Adamed to recruit talented and passionate young people who would like to develop their professional skills with us.
Our programmes for students and graduates
Adamed Super League
The internship programme is designed to attract ambitious individuals who want to embark on a career with us by pursuing our mission: to address the key challenges of modern medicine.
The aim of the Adamed Super League programme is to attract young talents and help them grow by involving them in interesting projects and tasks. We want our interns to take on specialised roles in all of Adamed's business areas in the future.
Careers Programme
We participate in the Careers Programme organised by the Polish Business Roundtable (PRB). It is an opportunity for young people to gain their first work experience and develop their skills in hope of working with Adamed on a more permanent basis in the future..
Enrolment opens in March. The internships start in July and last 2-3 months. For details, please visit the Programme's website.
Our interns' stories
Malwina
Junior In-Vivo Studies Specialist
Even as I was starting my biotechnology studies, my goal for the future was to work on innovative projects. The internship at Adamed provided me with space for comprehensive development and allowed me to gain unique experience in a dynamically growing pharmaceutical company. It is amazing to be part of a team of seasoned researchers and participate in the process of developing drugs that will improve the quality of people's lives.
Career path:
Internship at the Innovation Department
Junior In-Vivo Studies Specialist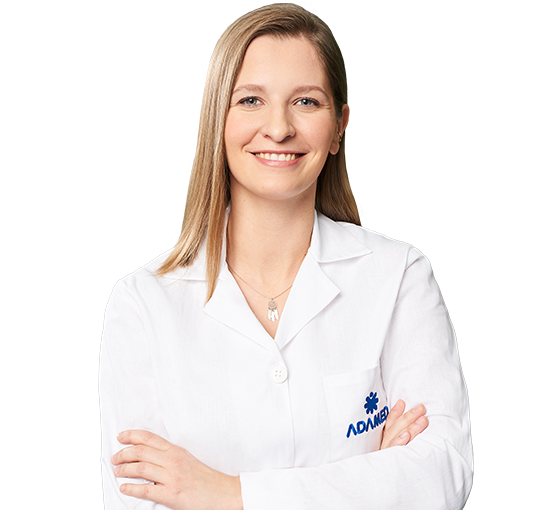 Małgosia
I studied Public Health, so when I started an internship at the Regulatory Department, I wasn't sure if this was the right fit for me. Now I know that this is a challenging, yet promising area with plenty of growth opportunities. Adamed is a company that uses cutting-edge solutions so as employees we get the chance to use them, too. Considering the career opportunities and the fantastic people I've met here, I will definitely stay with the company for longer.
Career path:
Internship at Regulatory Affairs Department
Junior Regulatory Affairs Specialist